Club Dues Time Again: Annual Anglers Club dues are $20 per individual angler or $20 per family including spouse and children 18 or younger at the end of 2018.  Club members who choose to receive the Livewell by mail will continue to pay $25.  Please mail checks to club Treasurer Mike Olsen at 23 Savoy Drive, Lake Saint Louis, MO 63367 or bring you payment to the next club meeting on February 13th.
*Note:  Family members or children not 18 or younger at the end of 2018 must have a separate paid membership regardless of where they reside.
2018 Lake Stocking Complete!  Early in the month of October two separate lake stockings were successfully completed. About 280 pounds of larger sized Largemouth Bass were stocked in the big lake and about 500 fingerling sized Channel Catfish were stocked in the small lake. Lake stocking pictures can be found here: 2018 Lake Stocking Pictures
New Lake Record Carp Caught!  On Sunday morning 9/30, Dave Austin caught and netted a 48lb 13oz grass carp on the small lake.  The fish was weighed and witnessed by club members Jim Ferree and Ken Moeller with video and pictures taken.  Congrats Dave!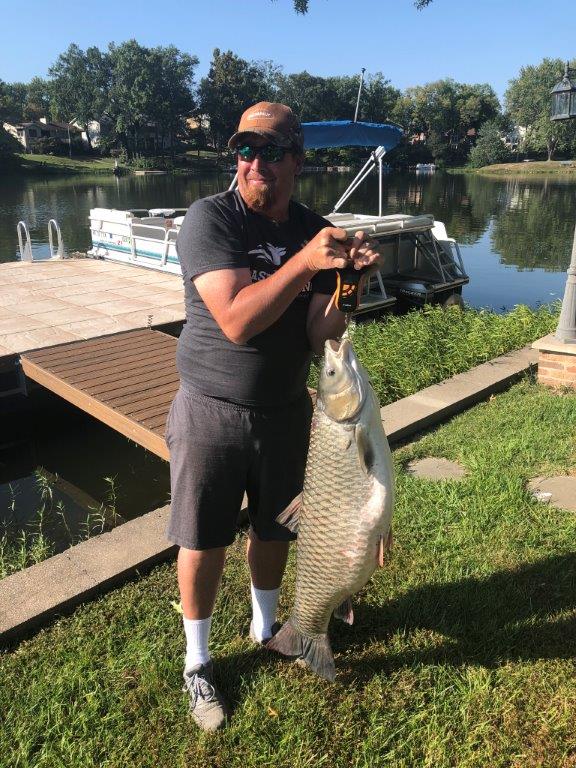 Upcoming events:    
 
March 13 - Monthly Club Meeting, C.A. Clubhouse, 7:00pm-8:00pm
March 23 - Habitat Work Day, Windjammer Point, 8:00am-12:00pm
April 6   - Buddy Bass Tournament, Windjammer Point, 8:00am-2:00pm
April 10 - Icebreaker Party, C.A. Clubhouse, 6:00pm-9:00pm
April 20 - Buddy Bass Tournament, Windjammer Point, 7:00am-1:00pm
Copyright © 2019 Lake Saint Louis Anglers. All Rights Reserved.
Countdown
First Buddy Bass Tourney of 2019 (4/6/19) will start in: