Welcome Fellow Anglers! 
---
New Lake Record:  

In May 1996 a young angler named Stephen Cox (12 years old) caught the fish of a lifetime. He successfully hooked and landed an 8 lbs. 8 oz. largemouth bass on our big lake! Stephen's catch was documented and recorded as our lake record largemouth bass and that record has stood for 2 1/2 decades.

Exactly 26 years later in May 2022 another young angler named Angelo Malek (17 years old) hooked and landed a largemouth. The fish was correctly documented and submitted for a lake record and we now have a new lake record largemouth bass weighing 9.01 lbs!!!

On Wednesday May 11th Angelo Caught a largemouth bass while fishing on the small lake. Several people walking by watched him fighting the fish and another angler who was nearby named Matthew Northrup witnessed Angelo landing the fish and offered to let him use his digital scale to weigh it. The fish was weighed on the digital scale and both Angelo and Matthew have confirmed that the fish weighed 9.01 pounds.

Angelo was fishing off the dam with a Senko and hooked the fish deep in his gills which caused the fish to bleed. A quick picture was taken the fish was put back in the water and Angelo spent several minutes resuscitating the fish which eventually swam off.

A tournament was held on the little lake on Thursday and a few anglers and one homeowner on the little lake saw a large fish floating but it was confirmed by two of the anglers that it was a carp. No dead bass has been spotted on the little lake in the last six days so it is assumed that the fish has made a full recovery and survived.

Angelo has been a CA resident for most of his life. He has fished from the shore on our big and little lake for 13 years and is a very skilled angler.

Congratulations Angelo on your new lake record!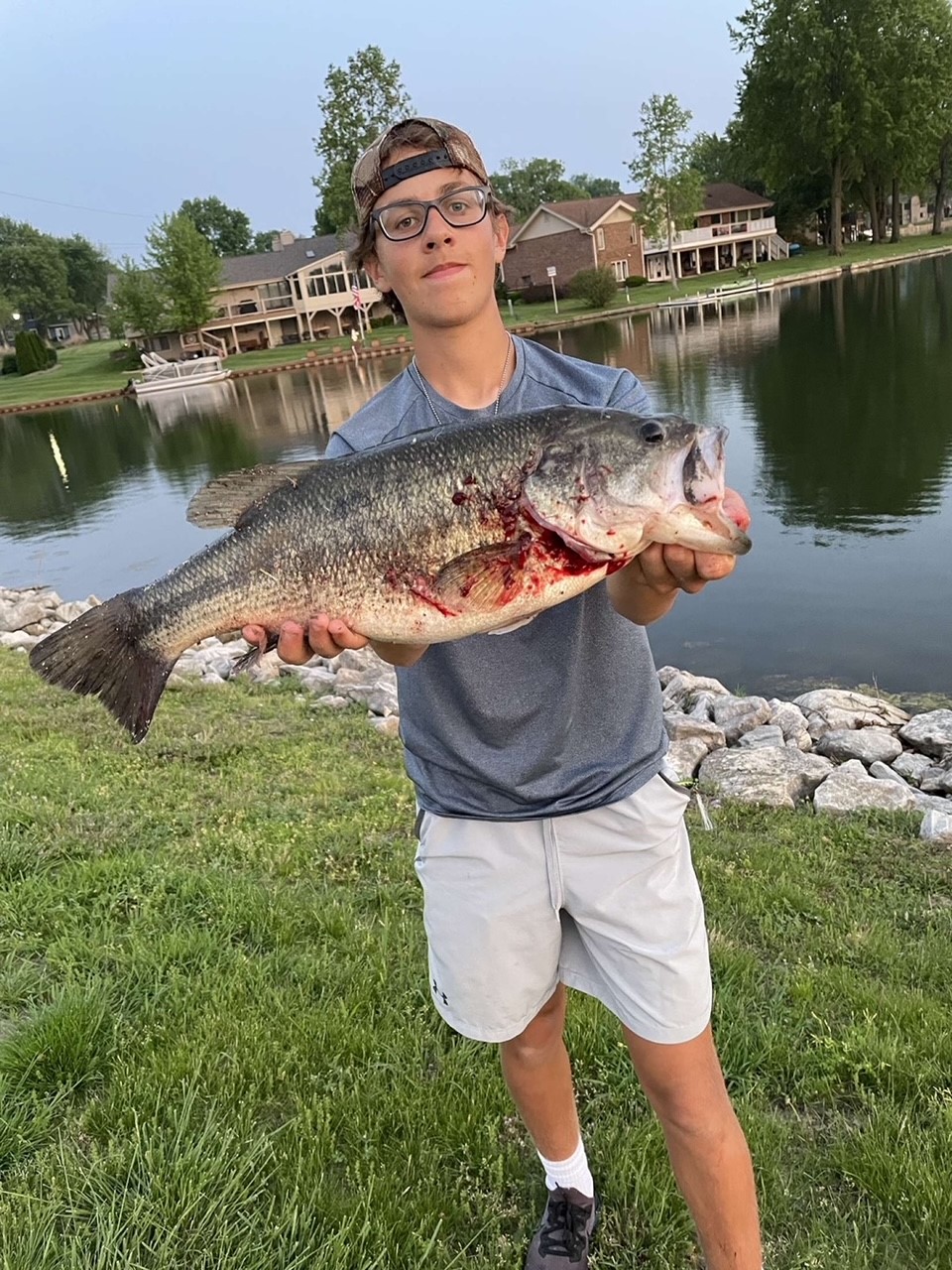 ---
Upcoming Events:  

All upcoming club events can be found here: 2022 Club Agenda
---
Copyright © 2022 Lake Saint Louis Anglers. All Rights Reserved.