Club Election Results
President:  John Shanahan
Vice President:  Kerry Wallace
Treasurer:  Mike Olsen
Secretary:  Ken Moeller
Board of Directors:  John Dangoia, Tom Harris, and Vinh Truong
Tournament Committee:  Ryan Hopping, John Shanahan, Dan Barnes, Kerry Wallace, Doug McGarry.
Anglers Club Christmas Party: It is that time of year again! On December 12th, the Anglers Club will hold it's annual Christmas Party. Cocktail hour starts at 6:00pm with dinner served around 7:00pm. All members in good standing and their families are welcome to join as the club will host the catered meal and provide refreshments. As usual, there will be a silent auction and 50/50 drawing, as well as the yearly trophy/prizes handed out for big fish for the monthly contests as well as the prizes for tournament heaviest 5 fish limit and biggest tournament bass weighed in. Donated silent auction items do not need to be fishing related. Also, this is a great time to pay your club dues for next year.
2018 Lake Stocking Complete!  Early in the month of October two separate lake stockings were successfully completed. About 280 pounds of larger sized Largemouth Bass were stocked in the big lake and about 500 fingerling sized Channel Catfish were stocked in the small lake. Lake stocking pictures can be found here: 2018 Lake Stocking Pictures
New Lake Record Carp Caught!  On Sunday morning 9/30, Dave Austin caught and netted a 48lb 13oz grass carp on the small lake.  The fish was weighed and witnessed by club members Jim Ferree and Ken Moeller with video and pictures taken.  Congrats Dave!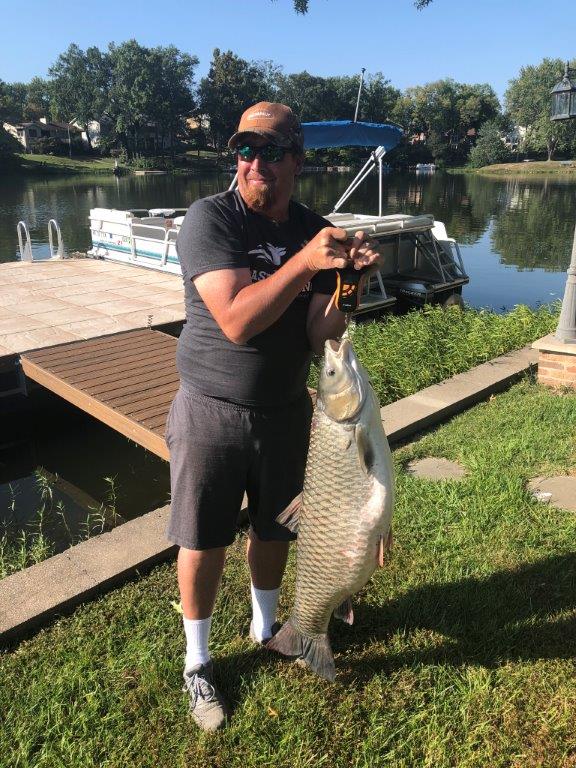 Upcoming events:    
December 12 - Anglers Club Christmas Party, C.A. Clubhouse: 6:00pm, Dinner at 7:00pm
Copyright © 2018 Lake Saint Louis Anglers. All Rights Reserved.